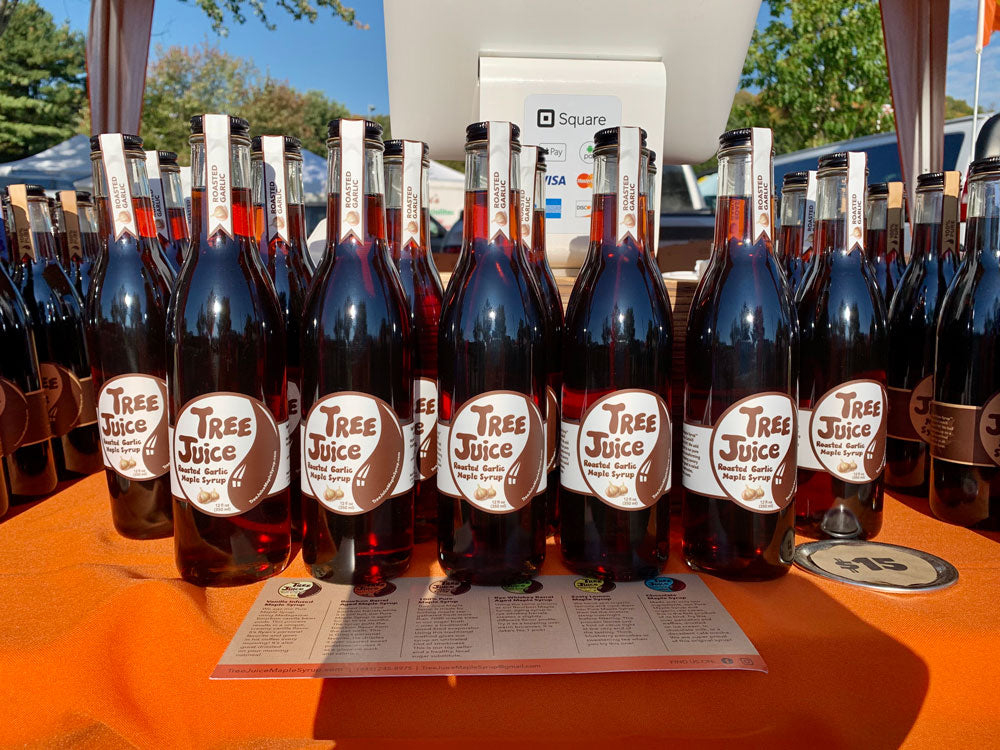 Sneaky new Tree Juice Maple Syrup variety!
We were thrilled to be accepted as first-time vendors at the hugely popular Saugerties Garlic Festival held September 28 and 29, 2019. As part of the application process, vendors must have at least one product made with garlic, something we've been looking forward to developing.
To find some local garlic, we partnered with our good friends Keith and Jenn Duarte of Damn Good Honey Farm. Keith and Jenn grow incredible garlic (along with every other veggie you could ever desire). Their farm and farm store are located in Kerhonkson, NY and have a devoted following of customers (for good reason). We purchased 3 lbs. of freshly harvested garlic, cleaned, peeled and slow roasted the cloves to fully engage the garlic aromas, then pureed the mixture. This was added to 10 gallons of our 100% pure maple syrup, heated, and then allowed to steep overnight. The next day the mixture re-heated and filtered, leaving a freakin' amazing savory syrup worthy of the Tree Juice name.
Check out our garlic maple syrup and try it!
Obviously not best used on your pancakes, but drizzled over roasted veggies,px chicken, steak or pork this syrup is incredible. Maple sweetness with a garlicy finish, it makes your meal pop.
Next was the big test: introduce our new Tree Juice Maple Syrup variety to the Garlic Festival attendees! We were a bit dubious as first-time vendors with a brand new product. However, our nerves were soon soothed when the very first person to try it purchased a whole case (of 12) on the spot!
The rest of the weekend was a massive success. We made 120 bottles and came home with six! Those 6 were quickly snapped up by Tree Juice fans who had heard about the surprise product. We can't wait to make more batches next year!
Big thanks to Keith and Jenn at Damn Good Honey Farm for supporting our vision. Make sure to check out their beautiful honey and farm stand in Kerhonkson!