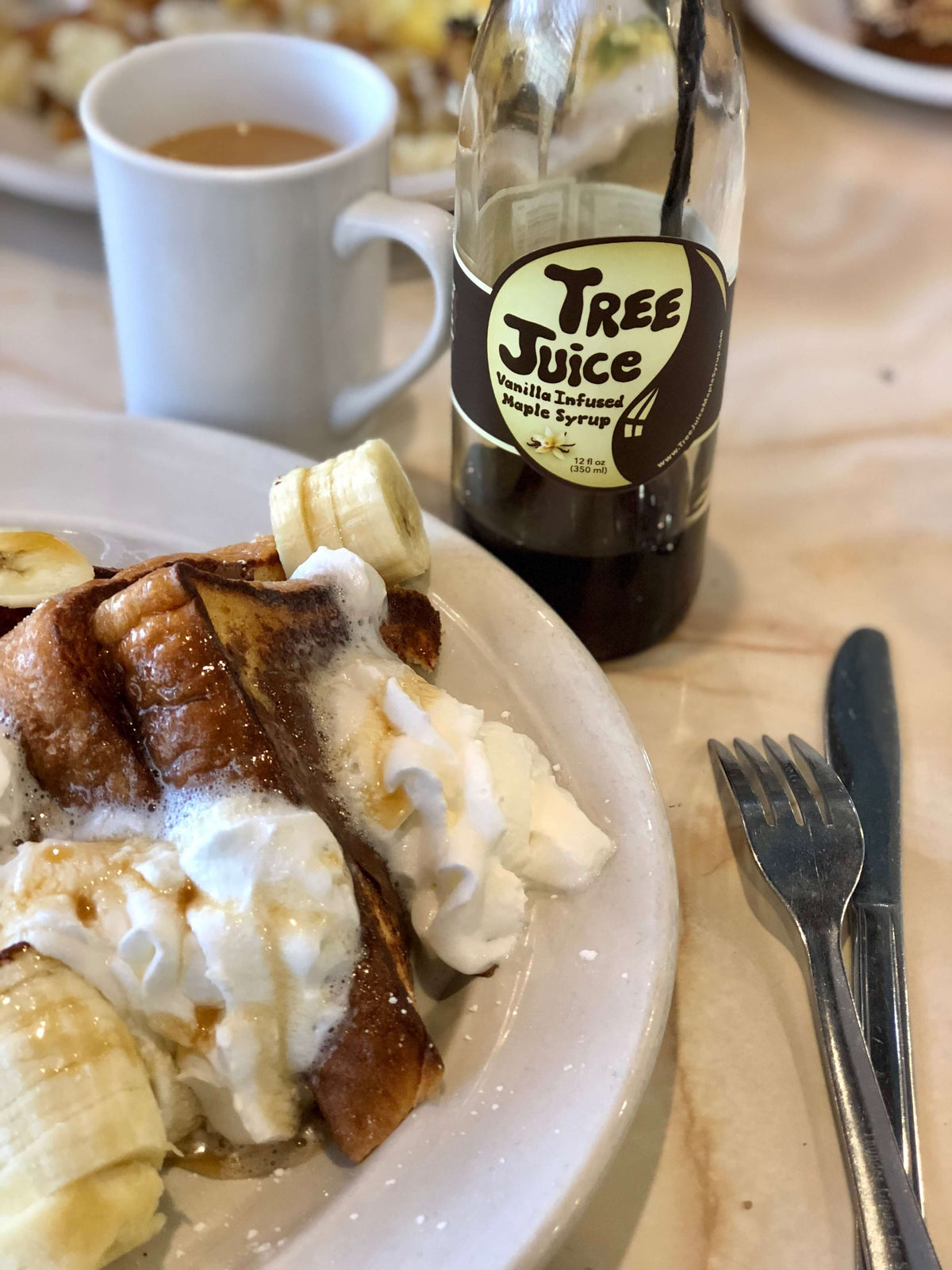 There are few things as satisfying as a made-from-scratch breakfast on weekend mornings. A sizzling griddle, the smell of coffee enveloping the kitchen, shamelessly wearing pajamas until noon – what's not to love? Whether your go-to breakfast is pancakes, waffles, or some sweet, magical hybrid, they all NEED maple syrup!
We all know and love maple syrup as a sweet and pourable pancake topper, but have you considered getting out the maple syrup bottle past 10 am? Maple syrup is a surprisingly versatile ingredient, great for sweetening your tea or coffee, adding a special kick to roasted veggies, drizzling over ice cream or even as a killer cocktail ingredient!
Traditional 100% Pure Tree Juice Maple Syrup is our most popular product, but eight years ago we took our  maple syrup to the next level by developing a full range of infused and aged options. We currently offer nine varieties that take your taste buds on a journey from wild blueberries to roasted garlic!
Our Tree Juice Maple Syrup varieties include: Pure, Bourbon Barrel Aged, Rye Whiskey Barrel Aged, Vanilla Infused, Zesty Lemon, Blueberry, Cinnamon, Candy Cane (Peppermint), Chocolate and Garlic!
How do you infuse maple syrup?
In order to create our range of fun varieties, we use both aging and infusing techniques. Our Bourbon Barrel Aged and Rye Whiskey Barrel Aged maple syrups (Jake's favorites) are made by adding hot maple syrup to locally sourced, used oak barrels (such as the Rye Whiskey barrels from our good friends Union Grove Distillery). We then seal the barrels and store them for about six months. This allows the maple syrup to pull the flavor directly from the charred oak walls of the barrel.
To make our Vanilla Infused Maple Syrup we take Madagascar vanilla bean pods, puree them with hot maple syrup and then allow the mixture to steep overnight. The following day we filter out all the beans leaving a rich, creamy syrup (Ryan's favorite).
Our Zesty Lemon, Candy Cane and Cinnamon maple syrups are made by hand zesting a large amount of organic lemons / collecting organic peppermint grown on the farm or using full organic cinnamon sticks and adding it to our hot maple syrup. The mixtures then steep overnight and the following day we filter the syrup before bottling (Rae's favorite is the Zesty Lemon).
Blueberry Maple Syrup is the most labor intensive variety we produce because we are committed to using real wild blueberries over juice concentrates. There are an estimated 250 wild blueberries in every 12oz bottle! We puree frozen blueberries and then boil them with our pure maple syrup for approximately six hours until the syrup reaches the correct viscosity.
The Chocolate Maple Syrup is made by adding organic raw cacao to our syrup and whisking vigorously throughout the bottling process.
Lastly, our Roasted Garlic Maple Syrup (which sounds odd, but boy is it goooooooood!) is made by taking beautiful locally grown garlic bulbs from our friends at Damn Good Honey Farm, peeling each clove by hand, roasting the cloves for a few hours then pureeing them before adding to our pure maple syrup. Once heated and whisked sufficiently, the mixture steeps overnight before being filtered and bottled the next day.
We are constantly developing fun new varieties for our customers and look forward to launching more top secret syrups very soon!
Top three aged/infused maple syrups to try today.
Tree Juice's Bourbon Barrel Aged Maple Syrup is made by  taking our 100% Pure Tree Juice Maple Syrup™ and filling locally sourced oak bourbon barrels. The syrup then ages and draws the bourbon flavor from the oak cask walls. The result is a rich tasting maple syrup with a hint of smokey oak, bourbon and caramel.
Fun uses include glazed pork/salmon/roasted vegetables and drizzled over oatmeal or ice cream.
Why argue with a good thing? There is a reason why maple and vanilla are so often used together: they are delicious. We tested vanillas from numerous regions around the globe until we found the perfect balance of flavors. We chose Madagascar vanilla bean pods to add to our pure maple syrup. This infuses the syrup with an incredibly smooth, creamy vanilla flavor. This syrup is great on just about everything: pancakes, desserts, ice cream, yogurt, cocktails. Our friends Anna and Aya like to stir it into milk for a maple-milk treat.
We combine just the right amount of wild blueberries into our pure maple syrup to create this antioxidant-rich super syrup! Now, you can enjoy this decadent combination all year long. Want instant blueberry pancakes? How about an ice cream topping? Want to liven up a bowl of oatmeal, make blueberry muffins - you name it, we've got you covered!
Discover more of our maple syrup here.