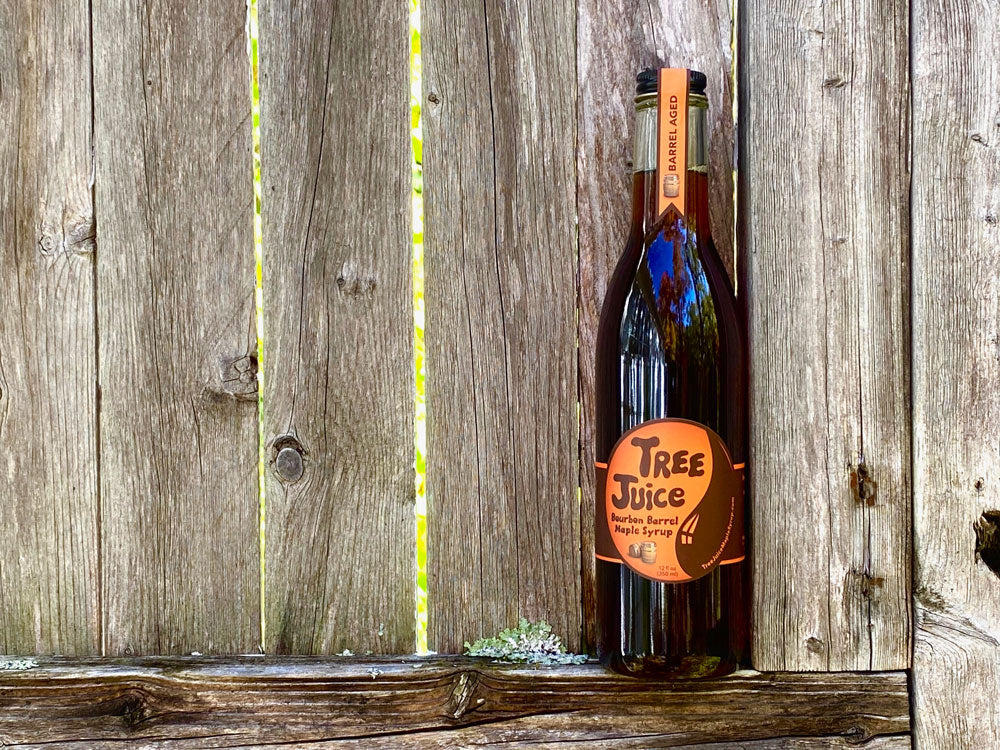 Bourbon and Maple Syrup: A Marriage Made in Heaven
In the Catskill Mountains of New York, the Fairbairn family have owned and operated their 100+ acre farm since the 1930's. Jake's grandfather started the legacy of making maple syrup, and both Jake and his brother have continued the tradition.

Making pure maple syrup over a wood-fired evaporator creates an especially delicious product, but it becomes even more special after aging the pure maple syrup inside a locally-sourced bourbon barrel for three months. Pure maple syrup is a treat in itself, but barrel-aging transforms this premium-grade maple syrup into something truly extraordinary.

To source these bourbon barrels, Tree Juice Maple Syrup collaborates with a number of local distilleries, including: Union Grove Distillery in Arkville, Hudson Distillery (formerly Tuthiltown) in Gardiner, Van Brunt Stillhouse and Fort Hamilton Distillery in Brooklyn, NY.


The barrels are filled with hot maple syrup to draw out the flavor compounds stored in the oak walls. Throughout the aging process, the flavor compounds are infused into the maple syrup adding hints of caramel, vanilla, cinnamon, spice, and most importantly Bourbon!!

Bourbon Barrel Aged Maple Syrup is an ideal ice cream topping, tastes great over oatmeal, in your morning coffee and of course on pancakes, waffles and french toast. It has a beautiful color and flavor.

Tree Juice Maple Syrups are packaged in clear glass bottles which maintain the flavor and show off the beautiful color variation and quality in every bottle.
Choose a gift card to start sharing this amazing bourbon taste!

Want to incorporate Tree Juice Maple Syrup into your favorite meal? Don't be afraid, it's amazing! Check out this delicious recipe:
Bourbon Barrel Aged Maple Glazed Ribs
Prep: 30 min. Bake: 1-3/4 hours
Makes 6 serving
Ingredients
3 pounds pork spareribs, cut into serving-size pieces
1 cup Bourbon Barrel Aged Maple syrup
3 tablespoons orange juice concentrate
3 tablespoons ketchup
2 tablespoons soy sauce
1 tablespoon Dijon mustard
1 tablespoon Worcestershire sauce
1 teaspoon curry powder
1 garlic clove, minced
2 green onions, minced
1 tablespoon sesame seeds, toasted
Directions
Step one
Preheat oven to 350°. Place ribs, meaty side up, on a rack in a greased 13x9-in. baking pan. Cover pan tightly with foil. Bake 1-1/4 hours.
Step Two
Meanwhile, combine the next nine ingredients in a saucepan. Bring to a boil over medium heat. Reduce heat; simmer 15 minutes, stirring occasionally.
Step three
Drain ribs; remove rack and return ribs to pan. Cover with sauce. Bake, uncovered, 30 minutes or until meat is tender, basting occasionally. Sprinkle with sesame seeds just before serving.
Tree Juice Maple Syrup combines craft, tradition, and time-tested techniques to produce unique maple syrup varieties. They take their ninety years of experience producing maple syrup at their farm, tap into the creativity of their talented team, and then collaborate with distilleries to age their pure maple syrup, producing the perfect blend of flavor profiles. Try Bourbon Barrel Aged Maple Syrup today!  
Not sure where to get yours? Find a store near you or order the Bourbon Barrel Aged Maple Syrup online.